As the fall semester begins, Fitchburg State welcomes our students back to campus for the start of another academic year.
It's great to have everyone back, but today we extend a special courtesy to our freshman students who are about to take their first Falcon steps.
The first two days of September are jam packed with events for you, and this guide will provide a little more information about them.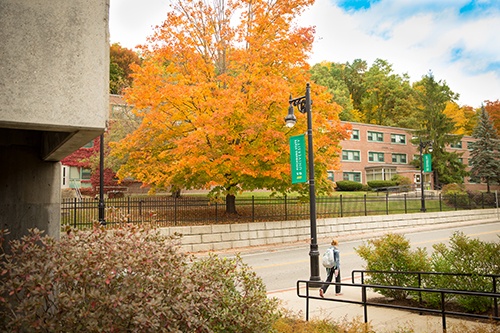 Tuesday, September 1
7:00 AM
New Student Check-In for On-Campus Residents (Wallace Civic Center)
Your Fitchburg State journey begins here. Get your orientation papers, a complimentary "Welcome to Fitchburg State" grab bag, as well as your One Card and parking pass.
7:30 AM – 1:30 PM
Coffee/Food (North Street Bistro)
After checking in and cementing your status as a Fitchburg State Falcon, stop by the North Street Bistro for some coffee and food to stay energized throughout the day.
11:30 AM – 1:30 PM
BBQ (Street Level Patio)
Lunch is served!
12:00 PM
Commuter Student Check-In (Recreation Center)
Commuter students will get their One Cards, parking passes, and additional orientation paperwork.
1:00 PM
Commuter Orientation (Recreation Center)
Non-resident students will hear presentations from fellow students who will recount their own commuter experiences, and inform you of all the services that are available to you on campus.
3:00 PM
President's Welcome (Recreation Center)
President Lapidus welcomes you to Fitchburg State.
3:15
Meet the Orientation Leaders (Recreation Center)
Orientation leaders will place you into groups of 20 students as you're given an in-depth campus tour. This is also the perfect opportunity to learn more about your fellow classmates.
5:30 PM – 7:30 PM
Dinner with your Orientation Group (Holmes Dining Commons)
7:30 PM
Commuter Meeting / Ice Cream Social (Main Lounge)
Commuter students: cap your first day with some after dinner ice cream and take the opportunity to connect with other non-resident students.
7:30 PM
Hall/Floor Meetings (Resident Halls)
Resident students will take this time to review university policy with RAs so to set the proper expectation for on-campus living.
8:30 PM
First Night Festivities (Hammond Campus Center)
Enjoy a series of festivities in "Club Hammond," where commuters and residents have access to three floors of entertainment consisting of a live DJ, giveaways, and indoor mini golf.
Wednesday, September 2
7:30 AM
Breakfast (Holmes Dining Common)
9:00 AM
"Drawing the Shades" Presentation (Recreation Center)
Attendance is required for this student performance of "Drawing the Shades," a play that examines the devastating nature of domestic violence and rape.
11:00 AM
Bystander Training (Assigned Classrooms)
Classroom safety training conducted by your orientation leaders.
12:30 PM
Lunch (Holmes Dining Commons)
Orientation leaders will split you into small groups for a more personal lunch alongside fellow freshmen.
2:00 PM
"Shot of Reality" (Recreation Center)
Mandatory alcohol abuse education.
3:15 PM
"Thinkfast" (Recreation Center)
A campus safety lesson done in a gameshow format.
5:00 PM – 7:30 PM
Dinner (Holmes Dining Commons)
8:00 PM
Welcome Back Carnival (Quad)
A celebratory carnival sponsored by our fraternities and sororities.