Our summer orientation has two remaining sessions, with each session lasting for two days.
Session III runs June 20 & 21 and Session IV runs June 22 & 23.
Below is the two day orientation schedule.
Official check-in starts at 8:00 a.m., but feel free to arrive any time after 7:00 a.m. Checking in covers registration with the Office of Student Development (OSD), and also Housing, Parking, Food, and the One Card.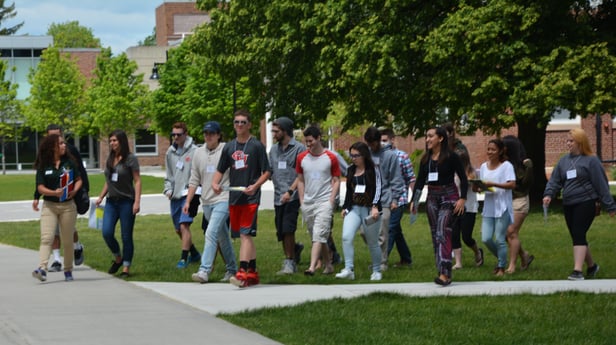 Day 1 Students:


Time
Event
Location

9:30 a.m.

Welcome

Weston

9:45 a.m.

Opportunities & Outcomes

Weston

11:00 a.m.

Academic Transitions

Classrooms

Percival 202, 203, 209, 211, 212

Thompson 212, 215, 217, 310

Edgerly 102



12:00 p.m.

Lunch

Holmes Dining Common

1:00 p.m.

Small Group Activities (w/Orientation Leaders)

Assigned Locations

2-5 p.m.

Rotating Sessions

Group 1: Financial Aid, Student Accounts, Academic Support, Student Services

Group 2: Advising and Registation, Meet and Greet with Department Chairs

Group 3: Housing/Commuter Life

Group 4: Tours/One Card

Ellis White

Library 1st Floor

Main Lounge

G01 A/B

Street Level Lobby

Holmes Dining Common

Falcon Hub

Campus Center

5:30 p.m.

Dinner

Holmes Dining Common

6:30 p.m.

Clubs & Organizations (Orientation Leaders)

Falcon Hub

8:00 p.m.

Social

Campus Center
Day 2 Students:


| | | |
| --- | --- | --- |
| Time | Event | Location |
| 8:00 a.m. | Breakfast | Holmes |
| 9:30 a.m | Stop Hunger Now (Debrief & Assessment) | Recreation Center |
| 12:00 p.m. | BBQ | Quad (or Holmes if it rains) |
| 12:00 p.m. | Check-out | Aubuchon Lobby |


Parents (Day 1):



Time
Event
Location

8:00 a.m.

Check-in

Street Level Lobby

9:30 a.m.

Welcome

Weston

9:45 a.m.

A Taste of Academic Life

(Nancy Murry and Mike Leamy)

Percival Auditorium

11:00 a.m.

Panel Discussion

(Mike Cloutier, Bill Cummings, Tom Rousseau, Rob Hynes)

Percival

12:15 p.m.

Breakout Sessions I

Housing/Dining/Parking

Commuters/Parking

Student Accounts/Financial

Disability/Health

Bookstore/IT

Percival

Thompson 119

Mazzaferro

Randall Lecture

Thompson 111

1:15p.m.

Lunch

Holmes

2:15 p.m.

Student Panel (orientation leaders)

Percival

3:15

Breakout Sessions II

4:30 p.m.

Reception

Falcon Hub