Michael Labrecque, a 2022 graduate of our university transferred to Fitchburg State in January of 2020 from a college in Arizona. His decision to transfer came down to his friend Peter '21 telling him about how great the Communications Media program is here.
"The film equipment and editing labs at Fitchburg State were very easily accessible to Communications Media students, which wasn't the case at the first university I attended and was a major factor in my decision to transfer. Also, smaller class sizes allowed me to have better relationships with my professors, which is extremely important in something like film/video."
When Labrecque was younger he always dreamed of being a movie director and knew that the Communications Media department would help him get there one day.
He was offered a job at his internship, but turned it down to work on the set of 'Survivor' instead.
Labrecque is currently the contestant coordinator for CBS 'Survivor' and does some other freelance work. He did an internship this past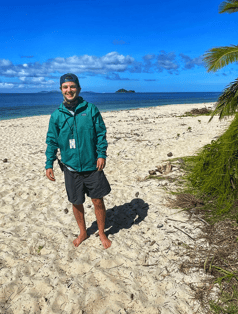 semester at Video Resources, an internship site in Santa Ana, California. Offered a job there upon graduation, Michael turned it down, and accepted a position as the contestant coordinator with the "Survivor" television series production team.
"A lot of things are confidential, but I essentially monitor the contestants and make sure they are following the rules and are where they need to be, when they need to be, before the show starts. There is a lot more to what I do, but unfortunately, I really can't share. I get to work in Fiji which is nice."
In the future Labrecque said that he hopes to keep his current position, but wouldn't mind working somewhere doing something similar back home in Massachusetts.
"I would encourage first year students at Fitchburg State to utilize all of the facilities, equipment, etc., that their major has to offer, as well as build relationships with their professors. Professors are professors because they are good at what they do, but more importantly, they are passionate about it. Building relationships like that in your desired field will take you amazing places. Connections are everything."
Michael thanks Dr. Charles Sides for his success with his internship and jobs.
In five years Labrecque sees himself living in Boston doing something in film/television and hopes to work his way up in the industry. He also hopes to be working with 'Survivor' when he can, since it is a seasonal job.
"The Communications Media department at Fitchburg State was fantastic. Again, the relationships I had with my professors and the equipment offered by the school were really important to me and my success. Without the internship program offered by Dr. Sides and Fitchburg State, I would likely not be writing this email from Fiji working for a production as successful as 'Survivor', so I am extremely grateful for theCommunications Media department."