Our "Meet the Faculty" blog series kicks off 2016 with an introduction to Dr. Natalie Karagodsky from our Biology and Chemistry Department. Dr. Karagodsky is relatively new to Fitchburg State, having joined our faculty last fall, and we want to give you the opportunity to know her a little better.
Tell us where you completed your academic studies.
I completed my Bachelor of Science degree in Neuroscience, at Brown University in Providence, RI. I then went on to get my PhD in Genetics, at Harvard University, in Boston, MA.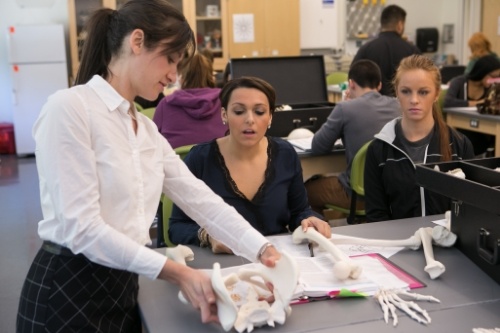 What are your research interests?
I am very interested in understanding how and why organisms age. Biologically, it is still unknown why everything must die. Surprisingly, the field has discovered that changing just one gene can affect an organism's lifespan – making it live sometimes twice as long, and other times, half as long. This is fascinating. I use the model organism C. elegans, a millimeter long worm, to study how our environments, the quality and quantity of food we eat, as well as the stress we encounter, affects gene expression and thereby regulation of our health and longevity.
What attracted you to Fitchburg State?
From my first visit to Fitchburg State, I could tell that everyone here was focused on the students - faculty, staff, and administration. Their goal is to help the students reach their potential. That is what motivates me to teach, so I knew I was in the right place.
What have been your impressions of the campus community in your time so far?
It really is a community. People are very helpful and supportive. My colleagues have been very welcoming, and are an interesting and intelligent group I feel lucky to be surrounded by. Our students are juggling a lot – jobs, sometimes families – but they know why they're at FSU, and they want to succeed. Their determination is inspiring.
Please describe your approach to teaching, and what you believe makes an effective undergraduate professor.
I try to include as much active learning in my classes as possible. Students need to be engaged in order to learn. It takes time to do clicker questions or activities, but if they are interspersed within a lecture, students greatly benefit. As an instructor, I also believe in learning and listening. I am always open to the needs of my students, and to new teaching techniques.
Anything else you would like the campus community to know about you?
I have been running since high school, and I love it! Also, to all our students, come by my office hours! I'm always happy to chat, and hear how class, or the semester, is going.