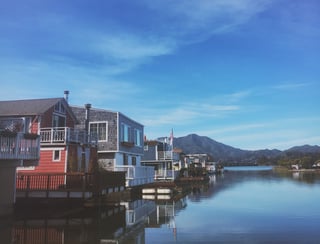 As a Communications Media student, I always kept internship on my mind from the get-go. The Internship Program serves as a capstone experience for all Communications Media students. Required for graduation, the 12-credit program typically takes place during a student's final semester. Students first undergo a portfolio defense process, presenting work which best exhibits their respective talents and interests.

Post-defense, students are given possible internship sites to contact for interviews. These are provided based on a student's body of work, as well as what area they wish to pursue. After receiving contact information, students are responsible for securing the internship, as well as relocating and all other associated costs in order to fulfill the requirement and graduate.
This process was often a mystery to me throughout the years, so I engrossed myself both academically and professionally to prepare. As an Honors Program student, academics held priority, and participating in film festivals and exhibitions also lit my fire. In addition to studying Film/Video, I declared another concentration in Graphic Design. I held multiple jobs, providing me with professional experience while making each semester possible financially. I hoped my involvement would prepare me for the unknown.
Last semester, Fall 2017, gearing for portfolio defense, I often found myself feeling lost. I was very worried where I would end up. Out-of-the-blue, my film professor approached me one afternoon, asking, "How do you feel about the Bay Area?"
I didn't feel much about the Bay Area. Mostly because I hadn't considered it. I was intrigued and honored he thought of me, but going west was not in my plans.
He explained that the Bay Area opportunity was a rare one, focused on post-production documentary work in Sausalito. I would be working closely with Mill Valley Film Group on their pieces for The Goldman Environmental Prize, documenting the work of grassroots environmental activists across the globe. This seemed to align perfectly with my values as well as post-production interests. My professor insisted that I take the leap.
Following my portfolio defense, I was formally recommended to contact Mill Valley Film Group. After interviewing with them, I knew I had to make this work.
As I looked for financial solutions and housing, I was disheartened to learn the scholarship I needed had ceased funding as of the 2018 academic year, which served as a key source of support for many students. As scholarship opportunities were now scarce, loans were essential to cover my relocation costs and rent. Additionally, I would need to secure part-time employment in the Bay Area to cover the expense of the 16 credits I'd be earning in order to graduate.
I took out the loans and took the leap.
This has not been easy, but with the beauty of the Bay, and the warmth and generosity of the folks at Mill Valley Film Group, I'm hopeful for the months ahead.

More soon.