Fitchburg State's storied theater program has resounded on the global stage. Since 2000, the university has taken part every three years in the Edinburgh Fringe Festival in Scotland. The trip typically involves more than two dozen students (with the high point being more than 30 students when the university's production of The Laramie Project was exported).
The week-long trip involves students performing alongside theater companies from around the world.
"The students work hard promoting the show we bring, and attend performances and befriend actors and directors from everywhere," said Professor Richard McElvain, who has accompanied students on each voyage. "Many maintain these connections long after we return. Some of them lead to productions at Fitchburg State."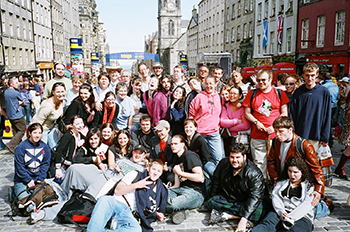 One such production was an adaptation of Franz Kafka's "Metamorphosis," which was performed by the student-run Falcon Players with great success.
The voyage typically concludes with a decompressing on the west coast of Scotland including hiking in the highlands and visits to the Inner Hebrides.
The theater program will be collecting donations at its upcoming productions for a return trip to Edinburgh scheduled for 2015.