Heaven-Leigh K. Daniel, '22, didn't waste any time after graduation. She got her new job a few days after graduating, as a communication specialist for Caribbean Integration Community Development in Boston.
Previously, Daniel was working at Grizz Gang Forever Studios in Fitchburg as a creative director.
Daniel also interned at Northern Light Productions this past semester and said she was very grateful for her internship.
"I absolutely loved my internship because I was able to use both my creative and logical sides of my brain. I loved that every day is different and the projects are important to the communities that they are representing. My internship just made my passion for media production increase drastically," said Daniel.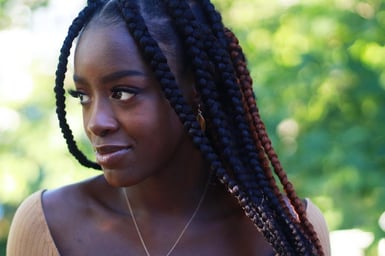 Daniel described the process of finding her internship to be "pretty easy" with the help from her internship advisor.
She worked while interning and said that it was not easy, but it's not impossible either.
Her advice for future students is, "However much effort you put into the program is how much you are going to get out of it, just like most things in life. Be as creative as you can be and create as much as you can. Practice, learn, get better, and enjoy the process."
Daniel chose to attend Fitchburg State because she was impressed by the film/video program.
She followed her passion for storytelling and concentrated in film/video and majored in Communications Media.
"I believe skillful communication is a vital part of many careers and many interactions in general, so I was happy to learn from those communications media courses as well as seeing some of the principles from those courses transfer very well over to my specialized film courses," said Daniel.
In the future Daniel said she is going to wear many different hats in her life as she is sure she will let her passions guide her actions. One day, she would love to be a full time creative director for multiple clients from around the world.
Daniel said she is very grateful for this university and all its opportunities that stemmed from it.
She said that she is going to miss her study spots in Conlon and Hammond. "Those spots are a commuter's dream. It's the little things that make a big difference.
"I have been able to create wonderful art in many different mediums and nourish my creativity with different techniques in different classes. There are a handful of film and video professors that really made it a unique experience because of their expertise and passion. Even professors outside of my discipline were extremely helpful. Also, the clubs and organizations at Fitchburg State helped me to explore my passions, and I really feel that there is something exciting for any one at Fitchburg State. I feel like I got the full experience at Fitchburg State and I'm grateful I had the chance to be a student here," said Daniel.