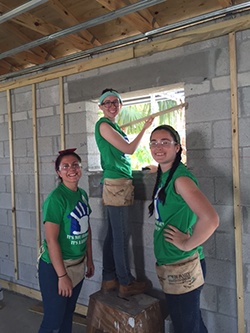 Let me start off by saying that I am not a handyman. Before last spring break I had never touched a nail gun, used a saw, or had any reason to climb up a ladder. So why did I decide to apply to help build houses with Habitat for Humanity during my spring break? I probably couldn't answer that question then, but I can tell you now that the trip changed my life.

We left on an early morning in March, most of us too excited to be tired. For months before, the team was preparing: bonding, fundraising like crazy, and it was finally happening. It seemed to take forever and a day to get down there, with our connecting flights and the long drive down to Laredo, Texas itself. But it was well worth it.

Laredo is probably about as close as you can get to the border of Mexico. The area is very impoverished, but the people are absolutely incredible. We stayed at a little church about 20-25 minutes from the worksite. It was another way for us to bond and make memories as a group, and I don't think any of us would have changed that.

Our work days were Monday through Friday, mostly from 8 a.m. – 4 p.m. We had lots of different jobs. A couple members of the group were actually able to build a shed from scratch. Over the course of the week they got the walls and roof up. The rest of us worked mostly on the frame of the house. That was my job. Now let me say it again, I am not a handyman. This week took me completely out of my comfort zone, but I took it one day at a time. The first day was getting used to all the tools and figuring out what I was comfortable with. I cut a lot of wood, and took down and redid some of the inside panels. It took me a couple days to use the nail gun, and almost the whole week to get up onto the ladder. But I did it. And maybe my contribution wasn't the biggest or the best, but even knowing that I made the smallest impact on someone's life was enough for me.

Those who receive these houses don't just get a "free house". They work incredibly hard to provide for their families, and put in hours upon hours of work on their actual homes before they're able to receive them. What we didn't realize at first was that we were actually working with some of the future homeowners. We got especially close to Paco. He was very shy at first, and most of us assumed he was a volunteer like the others that were teaching us how to do all the work. It wasn't until we got him to open up that we learned he was there to do his share. His family was receiving a house from another worksite. He constantly told us how grateful he was. His living situation at the time was not ideal, but he showed up to the site every morning with a smile on his face and a positive attitude. Though we only had a few short days together, I think it's safe to say that the entire team made a friend they will never forget.

What I learned on this trip will stay with me for the rest of my life. It wasn't just about the 30-something hours of physical work we put in, or the construction skills we learned. It was about making a difference in people's lives. Each and every Habitat homeowner in Laredo, and all across the country, works hard to earn what they receive, and being a part of that, no matter how small, is humbling. Not only is it making an impact on them, but it made an impact on the way I see things in my own life. It made me realize the small things I worry over and complain about really aren't that important, and that everything I have I am 100% grateful for.

I'm not stopping in Laredo. I'm lucky enough to be on the lead team for Alternative Spring Break 2018, and I cannot wait to see what this year will bring us! We are still accepting applications until Friday, September 29th.
If you're interested, download the application and submit it via email once you've finished filling it out.