Eighteen Fitchburg State students joined faculty members Jon Amakawa and Jeff Warmouth for spring break in Japan, visiting landmarks in Japanese art and game design. The nine-day trip was part of a course on games and arts in Japan, offered through the game design program.
"The trip came together better than I could have imagined," Amakawa said. "Although short—just nine days—it combined a diverse survey of both contemporary media in Japan in the form of games, manga and anime and traditional arts and culture in Japan."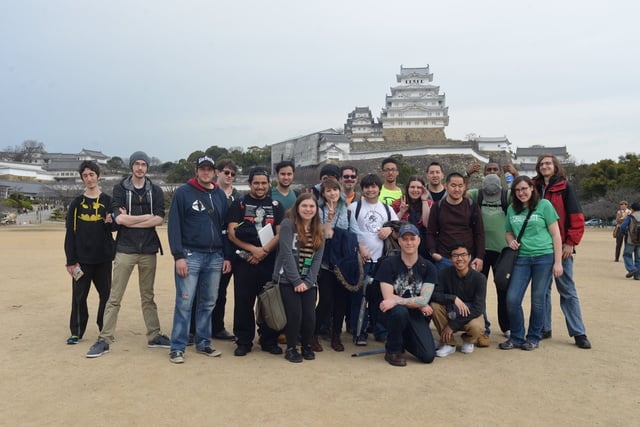 Students explored contemporary media during their journey, where they visited Japanese game companies Gree and Toy Logic in Tokyo, and Vitei in Kyoto. "We had an opportunity to see and talk with Japanese Game developers and learn about their production processes, tools and products," Amakawa said.
Also in Kyoto, the students experienced the traditional and historic from the Zen monastery of Daitoku-ji, with its rock gardens and Shoin-style architecture, to the old Gion district.
"In seeing the aesthetic and design of these sites as well as the 450-year-old (19th generation) knife shop in the Nishiki Market, students experienced the long and continuous tradition of arts and craftsmanship in Japanese culture," Amakawa said.
For student Sabrina Velez, the trip was her first voyage outside the United States. "Going to Japan had been a dream of mine for such a long time, so it was easy to feel positively blown away by everything," she said, describing new food and other experiences related to being immersed in a new culture. "I was shocked by how different everyday things could be in a foreign country. I feel as if there is still so much about Japan, its beautiful culture and traditions that I really want to get to know."
It was also, appropriately, educational. Visiting gaming studios and the Kanagawa Institute of Technology provided students with knowledge and advice from seasoned game developers and other industry professionals. "The trip contributed hugely to my studies as a student game design major at Fitchburg State," Velez said.
She also enjoyed the immersion in modern and traditional Japanese art forms. "We did things like attend a workshop at the International Manga Museum, where we learned basic line and shading techniques used in the creation of manga. We learned a lot about traditional Japanese visual arts as well, such as calligraphy, sculpture and architecture in our visits to temples in Kyoto," she said.
"It's really nice to come back from the trip with a more open mind and a better understanding of how the outside world works," Velez continued. "We took so much from this trip, all lessons that I expect will contribute nicely to my studies, and more broadly to life. I am extremely thankful for the opportunity to be able to participate in this trip, and I look forward to the day that I can visit Japan once again."
The university offers several courses that include a foray abroad as part of the curriculum, as well as offering longer-term study abroad experiences through the Office of International Education. Last summer Fitchburg State was one of 26 universities to receive scholarship funding from the Institute of International Education. Three of the students from the recent Japan trip each received $2,500 scholarships to help defray their costs through the program.
Amakawa said he and Warmouth are looking at offering a more immersive version of the program for an upcoming summer course.
See a photo gallery from the journey on Facebook, and check out our Game Design page for more informaiton on the program.