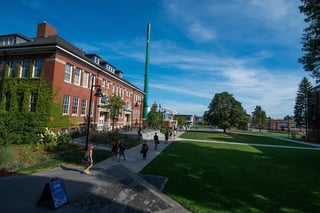 I was 2 minutes and 45 seconds late to work today. My brisk walk up Highland Ave. from Cedar House has me walk past two "detour" signs and a half dozen construction vehicles placed Tetris-style in the turnaround between Miller and Percival Hall, which, almost poetically, was constructed last summer.
I can't seem to remember where they parked their cement mixers before that was there.

I'm almost there when the sun peeks out from behind a cloud. Immediately I'm sweating, even in the breathable polos us tour guides are honored to wear. The temperature drops dramatically as I step into Anthony, timecard in hand, and then I'm taking a seat behind the desk where I'll be until the 11:30 tour.

Today I decided to count how long the phone goes without ringing. Answer: Not long. The voices on the other end of the line are usually polite, and I find myself answering a lot the same questions. Many calls require being forwarded. Some to our neighbors: like the Transfer Center, Financial Aid, Student Accounts, and the Registrar. Others to the Placement Test Center or International Education in Hammond. Housing and Parking Services is also popular. Some calls are to verify that we received their high school transcript or SAT scores, because with our rolling admissions model, we'll continue to accept students for the upcoming fall semester up until the day before classes start. We definitely don't recommend applying that late, but our counselors are still reading applicant files throughout these summer months.
Our office got pregnant twice this year so sometimes very small humans come to visit. They look like future falcons to me but I don't want them to make any important life decisions so early. Other times there's cake for someone's retirement or going away party.
Today, half the counselors are gone, making their way to Chicago for a conference. When 25 people show up for the morning tour, our waiting room is bursting. Me and 25 new friends. Lots of rising seniors this time of year, only beginning their journey through college admissions. They're the reason I'm here all summer chafing in my khakis until classes begin in September and they're completely worth it.
We shuffle across campus checking out art galleries, science center labs, the dining hall, the rec center, among other things. Some prospective students yawn while their parents ask all the questions, rapid-fire. I've been doing this for 4 years so I've mostly heard it all and they no longer stump me. We talk about "fit" in the admissions world and time and time again, I see it happen right before me. My job is to show what we have to offer, and many prospective students marvel at how student-run our campus is. They see the resources and opportunities we have available, and they begin to see themselves here.
In the first few weeks following commencement, there were some days where I barely saw another human soul, aside from those coming here for campus tours. But more recently, students and student staff have appeared. This week is the first and second round of summer orientations for incoming undergrads and their orientation leaders (OLs) have been working really hard to welcome them for their overnight stay. It warmed our hearts when a student posted on the accepted students page last night about how amazing the experience was thanks to our OLs! Since hiring and training is my area as a lead tour guide, I get to proudly and shamelessly mention that a good amount of them are also on my staff.
As the summer sunburns on, and I avoid those with a good SPF, I hope I can keep showing Fitchburg State off with its glass towers, ivy, and manicured lawns. But, as beautiful as it is, the good stuff is beneath the surface. I've embraced my small but significant role in finding the next incoming class and soon enough you'll see them walking across the main quad.