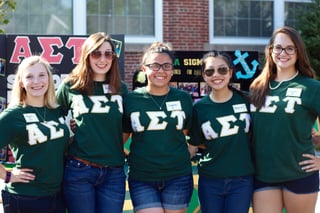 Whether you're an incoming freshman, a transfer, or an active student, joining a Greek organization on campus can be really intimidating. I was nervous meeting all the girls, even though I had gotten to know some of them over the last year. In the fall, recruitment is called "rush," which is basically two weeks of nonstop events and activities. This process helps you find the sorority that best suits you and your personality. The most common phrase I heard during rush was "trust the process," which is so incredibly true. You might walk in thinking you want one sorority and then at the end of the two weeks go in a totally different direction. But don't worry…trust the process.
Here are a few things I wish I knew during recruitment. If you're thinking about joining a Greek organization, or you're on the fence about it, I hope this helps!
Recruitment is HARD!
Recruitment involves a lot of socializing and smiling. It's a little overwhelming, to be honest. You might feel really nervous meeting so many people in one night, finding the right topics to talk about while also staying upbeat and engaged. You'll have to say the same things over and over again and hear a lot of the same information from different sisters. The best way to look at it is you're getting different points of view from different girls in different sororities. Your cheeks WILL hurt at the end of the night from smiling so much, but it'll feel really great.

BUT recruitment is just as hard for the sisters as well.
Though you might be freaking out about meeting and conversing with all these new women, they're just as nervous as you, if not more so. Keep in mind they have been working for months in order to get just one of you to join their chapter. They're excited to have you there, so try to relax and let the conversation flow.

Wardrobe
I was fortunate enough to have friends in sororities at different schools so I would text them and ask what to wear. The advice I normally got was relaxed business casual, like something you would wear to a school conference. Jeans are absolutely acceptable, and so are leggings! Throw on a nice top and your favorite pair of clean converse, flats, or sandals and you're all set! I did notice, however, that as the events went on I started to dress a little classier each time. You don't need to go all out and wear a dress with heels, but if that's what you like to wear, then go for it!

Don't:
-show too much skin
-wear skirts too short (finger-tip rule definitely applies here)
-try to be someone you're not, they will like you for you.
Makeup
This almost falls under the same guidelines as wardrobe, but if you're the type of person to wear a full face of makeup then wear that full face of makeup. If you don't wear makeup or don't want to, then don't! The biggest thing here is to be yourself and show them who you are through your style. Trust the process.
Talking Points
This was huge for my class. There was a good majority of us who didn't know what to talk about besides their majors and their favorite color. So below is a list of things to bring up in case you're stuck.
BASICS:

- Major (and why)
- What year they are
- How they like their classes
- What they plan on doing after college
- What clubs/organizations they belong to on campus (and/or off campus!)
SORORITY:

- Why they joined
- Volunteering (what they do, how they help the community)
- What leadership opportunities they offer
- What does their philanthropy mean to them? Why?
- How they feel about recruitment
Take Notes
At the end of the evening, I would go home, sit down, and write out the night. I would divide my paper into three sections (because we have three wonderful active sororities on campus) and write down important parts of the night. I would write the impressions I got from them, interesting or important points (ex: I talked to Elle Woods from Delta Nu and we discussed leadership opportunities). Making a list allows you to compartmentalize your thoughts on each sorority and help you feel less overwhelmed.
7: Don't get overwhelmed, GET EXCITED!
Recruitment was one of the most exciting times of my life, and hopefully you'll have a great time, too! Remember, the reasons you like a sorority might be different from other girls, so it's important to not listen to rumors or gossip about each chapter. It's your own personal journey and you have to trust the process.

This was such an amazing time for me and I can't wait to be on the other side of it next year! Good luck ladies. Trust the process!