Although this week included two days off from classes it has been academically grueling for some. Monday was a day off due to Patriot's Day, a Massachusetts holiday that includes the Boston Marathon, the Red Sox at Fenway, and a whole lot of patriotism.
The second day we had off was Thursday, and that was due to the Undergraduate Research Conference. To learn a little more about it, keep reading.
This year was our 5th annual convocation and we had over 25 oral presentations and a room full of poster presentations. I have never attended (shame on me for not supporting my peers) until this year because we [the junior nursing class] were given an interactive assignment that coaxed us into going. I am so appreciative to my professors for having us attend because I learned so much from my fellow peers. It was inspiring to know about these projects my classmates were creating in the midst of our crazy academic lives.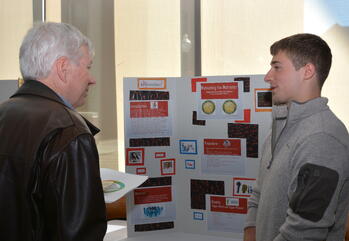 There were two types of presentations; oral and poster. If you chose to perform an oral presentation you were given a time slot of 15 minutes to showcase your project via a PowerPoint with explanations. The poster presentations were displayed in the main lounge where you stayed set up for approximately and hour or two while viewers could walk through the room and ask questions based off of your poster.
The projects varied from topics like assisted suicide, how much caffeine is there really in specific coffee beans, Ethiopian food struggle, and even a thorough study of Scott Fitzgerald and his works done by our very own blogger Matt Ramsden. It was invigorating to challenge my mind in all different subjects of academia while learning from students like myself.
Did you present at or attend the conference? What did you think?