It's Commuter Appreciation Week at Fitchburg State University, and let me tell you, I am certainly feeling appreciated!
Becky Lindley and her amazing Commuter Affairs staff have a week of events that are sure to make any commuter student feel welcome and appreciated. So find out what it's like to be a commuter here, and see how much the university truly values us!
There is free food almost every day, and all sorts of fun activities to go with it! It all started at 7:30 this morning with Breakfast with the President!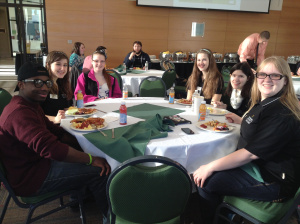 What better way to start a Monday morning than with a group of good friends eating some delicious food? It was such a nice time that I even forgot it was a Monday!! And of course, it would not be Breakfast with the President without an appearance from President Antonucci!
In just a few minutes, the second event of today will start! They are bringing the Dogfather truck to campus to serve up some hot food! I cannot wait! There is also a week ahead of healthy breakfasts, custom license plates, and other fun activities!
At some schools, you might feel left out if you're a commuter, but not here. Fitchburg State cares about us and treats us right!
DId you attend these fun festivities? What was your favorite?