Fitchburg State University's much anticipated last Main Stage show of the year, The Crucible, is currently running.
The Crucible is a work by ultra-famous playwright, Arthur Miller.
In my English Studies pursuits, over the years Arthur Miller has come up a lot. Luckily, the talented cast for FSU's show pulled off a great performance, completely worthy of the celebrated story.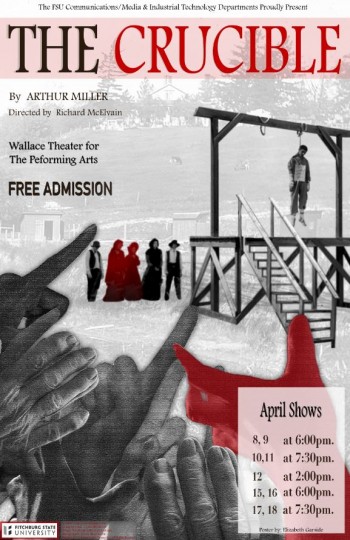 Arthur Miller is one of the best American playwrights to ever live.
Fitchburg really has a thing for the surname Miller. Not only is there a building dedicated to a Miller who helped begin the school, just last semester the Glenn Miller Orchestra held a concert on campus. This is a stupid paragraph; let's move on.
Sitting in the fourth row, I was mightily impressed with the acting. A free admission and an excuse to procrastinate on a Wednesday night—It's like a dream. I went out to eat with some of the cast to offer my compliments, and primarily to get mozzarella sticks, but you should focus on the first part.
I watched my friends do exceedingly well on stage
However, I have to say I was really into the sets. I've previously mentioned my lack of appreciation for stage plays, but the set design was amazing along with the lights and the entirety of the crew's work. It's a lot like a clock. We see the face, but the inner mechanisms are what keep things moving. So, to those who worked on the show, great job!
Fitchburg State's theater company has the opportunity to perform a play over there in that place called Europe. Yep, you heard that right. This year will mark the 6th trip the company has taken to Scotland. They will be performing a show called Fausted, which is a comedy based on the Faust story, written by an alumni of Fitchburg State.
There is an unprecedented amount of talent at Fitchburg.
I've met film majors with some of the best amateur work I've ever seen; photographers with breathtaking stills, actors that can make you believe anything, and writers that can swallow me up in their shadow. I swear if these people weren't so kind, I'd have a major inferiority complex. College pools together an entire generation, and if I stop looking around the world and look right in front of me, it's clear to see that the future is a mighty fine one.
Everyone always talks about opportunity, and it's a worn out speech, but they aren't wrong.
I understand that some people can't attend college, and sometimes they don't have to, but although I'm inexperienced in this world—I'd strongly advise they do it. It's almost like traveling, but in your own sphere. You have the chance to see the wonderful things all these strangers are capable of. I feel better each day in the company of sensible and enjoyable people. I also take some solace in the possibility that one day I can hone whatever my talents are.
Arthur Miller is cool. You are cooler, and The Crucible is the coolest. Have you read/seen it, and if so, what did you think? What would you consider to be your talent, and how has college helped? Why can't I remember any of my Internet passwords? Please help me. I need answers.