John Honeycutt always loved making television. As a student at Medford High School, he was active in the school's cable access TV studio, and figured he may be able to transfer the experience into a job someday.
"That's what led me to Fitchburg State," he recalled. "I didn't know it was going to take me down this road."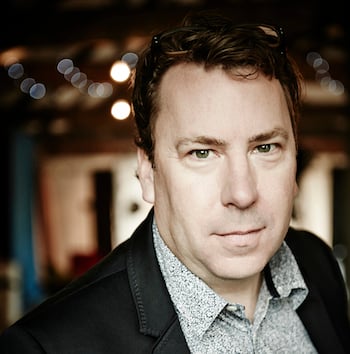 That road led to Discovery Communications, the world's number one pay-TV programmer, where this past summer he began his duties as the company's chief technology officer. In the newly created position, Honeycutt now leads Discovery's consolidated IT, media technology, production and operations functions globally. He's charged with developing a long-term technology road map to enable Discovery's growing pay-TV, digital terrestrial, free-to-air and online services.
The new post is the latest in a career that has taken Honeycutt across the country and then the world, navigating a rapidly evolving industry that has advanced from video tape to high-definition digital files.
Thrown in the deep end and learned how to swim ... fast!
As a recent college graduate, Honeycutt found his way to Houston, Texas, where he found a role working for a technical distribution outfit that later formed the backbone of Fox Sports Net. The work took him back and forth from Texas to Los Angeles, Calif.
"That's where things exploded, career-wise," he said. "I was thrown in the deep end of the pool and was working with some of the giants of television."
Honeycutt was designing network systems with FOX, FX, National Geographic and the Speed Channel, on projects including the Super Bowl, the World Series and the Daytona 500. In layman's terms, Honeycutt describes himself as "a corporate go fix things, go start things guy."
By 2003, he was recruited by Discovery Communications, tasked with designing and building a new transmission center.
"I had just started a family, and I was thinking it would be good to get back to the east coast," he said. "It was putting me in a place where I was able to operate in a fairly independent way, where I could build and design something that would be transformative for the company."
Going global pays off
The project was a success, and soon Honeycutt had gained global responsibility for Discovery's production and signal distribution. The big move came in 2010 when he was offered a chance to relocate to London and to take up a post as Discovery Networks International's Executive Vice President and Chief Operating Officer.
Honeycutt led the operational structure of Discovery's growing international business operations across more than 220 countries and territories. In this role, he served as the key point person for corporate support services for the division, working closely with the company's international programming, advertising and affiliate sales teams to help develop business strategy, share critical information and develop best practices.
In 2013, he led the expansion of Discovery's international operations through the acquisition of SBS Nordics—now SBS Discovery Media, a top-three portfolio of television brands across Denmark, Norway, Sweden and Finland, and the largest transaction in Discovery's history. He also played an integral role in the company's original investment—and recently expanded controlling interest—in one of the world's top sports platforms, Eurosport International.
"It's been an incredible journey," Honeycutt said. "I've learned an inordinate amount and I've been places that, as a kid, I never thought I'd see."
His new role, that he just started last summer, finally brought him back to the U.S.
Foundation for his career started at Fitchburg State
Honeycutt said the foundation for his successful career was his education, even if his training was not from as well-known an institution as some of his colleagues.
"Fitchburg State gave me the confidence to seize these opportunities," he said. "I found I was just as capable as anyone else. The name on the piece of paper is one thing; how you apply it is something else. The capabilities are what you make of them."
He recalls faculty members like Lee DeNike as a major influence. "The friendliness of the environment the school provided is something I've always remembered," he said.
Honeycutt said that while the business and technology has changed dramatically during his career, the fundamental principles he learned as an undergraduate still apply.
"You should have strong underpinnings," he said. "If you can have foundational knowledge, it provides you with a whole series of possibilities. It opens doors."
Honeycutt's advice to new graduates is to be open to those possibilities.
"Take chances. Take opportunities when they're put in front of you," he said, recalling how he had to overcome some nervousness of his own when he was getting his career started. "It was scary stuff, but I knew that opportunity was being put in front of me. People don't ask twice in business. When it's put there, grab it. Grab it with both hands."
Are you a Fitchburg State alum? How did your education prepare you for your career?