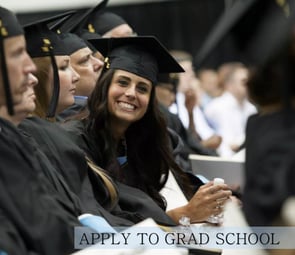 Applying to graduate school can seem to be an overwhelming task. It may have been a few years since you last applied to college. Now you may have a full time job, a family, and a house to take care of. When will you find time to apply? Like many things in life, the best way to overcome application anxiety is to take it one step at a time. Here are 5 steps to complete the process while maintaining a full time job and raising a family, and staying sane!
Review materials required for application to your graduate program of choice
Graduate program requirements can be found within each program page. Once you have the requirements, you can plan for gathering documents. Keep this list and a copy of all of your documents in one place, such as a Fitchburg State folder. If you ever need to produce another copy of your documents you'll know where to find them.
Set an application deadline for yourself.
You know you want to start classes in a particular semester. Count back at least 3 weeks from a date you'd like to have your answer, and have everything on file by that date. Let's say you're applying for the fall; try to mail everything in by August 1st, to allow the Admissions Office time to process your application and make a decision prior to the start of the semester. Having a deadline will help you keep on track.
Check items off of the list that you know you can produce.
You have a professional resume in the files on your computer. Put that in an envelope and check it off of your list. Go online, request transcripts from your previous college or university (good news Fitchburg State Alumni, we can print your transcripts!), and check another item off of your list. Finally, start thinking about your personal statement. By the end of the day you'll have 3 items checked off of your list! Now it's much less daunting!
Personal Statement…Where do I begin?
Most graduate students at Fitchburg State University are working adults. You've worked as a professional and gained valuable experience which helped you determine the graduate program you want to pursue. Use the personal statement to tell your story. What moment did you realize that you wanted to be a teacher? When did you decide that you wanted to move to upper level management? How did you know a graduate degree was the next step in your journey? Tell your story and give a voice to your application, one the Admissions committee would otherwise never hear.
Start asking for recommendations early
Quality letters of recommendation often take time to write. As soon as you decide to apply, start thinking of who you would want to write your recommendations. It's better to ask for more references than you need (think of 4 or 5 people to ask) as someone is bound to get busy and run out of time. Ask your current supervisor, manager, principal or superintendent. Speak to your former academic advisor or favorite professor from your undergraduate program. The possibilities are endless. If you don't know who to ask, give us a call and we'll give you some ideas.
Ready to apply? Visit our website and apply online. Have more questions? Call the Admissions Office at 978-665-3144 or email admissions@fitchburgstate.edu.
What's holding you back from applying to a graduate program? What are some of your obstacles?