Have you ever heard the saying "the early bird gets the worm?" Well it's true for course registration too! Students who register for courses early receive the most benefits.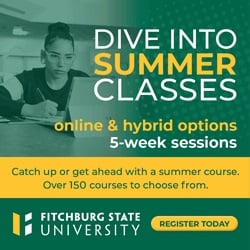 Whether you're looking to accelerate your degree, take a course for professional development, or take a class prior to applying to a program, it's important to get an early start. With a busy schedule, including working full time, and children and family responsibilities, students often find that careful planning for all aspects of life is crucial.

That said, we offer our top five reasons to register early for your summer courses:

1. Save $50 by avoiding the registration fee

Who doesn't need extra money? Use that extra few dollars to take the family on a nice summer outing, or treat yourself to something nice, like a new pair of summer shoes. We don't judge.

Just be sure that you register by May 2nd for summer session A or June 20th for summer session B.

2. Relieve stress with better course selections

Everyone has the same stress of trying to get enrolled in a popular course before it fills. And once courses fill up, you're potentially looking at another semester or even a year until you can take the courses you need.

Don't fall out of order with your plan of study, sign up for the classes you need early, and check a box off of your to-do list. Then you can relax knowing you have a seat in that required course before it's full. If the class you're interested in is full, call the Registrar's Office at 978-665-4196 to add your name to a waitlist or check out "How to add your name to the waitlist" and add your name yourself.

3. Plan your schedule in advance

Wouldn't it be nice to make summer plans around your course schedule?

Registering early for courses lets you lock in your schedule for work and family commitments like summer sports, camp, and vacation. Thinking about beach days while you study? Take an online or hybrid course to limit your commute to campus.

Educators, be sure to check out our summer courses & institutes for teachers including convenient 1 and 2 week institutes, online, hybrid, and on campus options.

4. Purchase your books early

Do you like getting a good deal? Registering early allows you to purchase your books in advance. Why spend money on a rush order when you can shop online a month early? As an added bonus, having your books allows you to read and get ahead before class begins.

5. No course registrations = No class

Nothing is more frustrating than having the course that you need get cancelled. (Okay... that's not exactly true, but it IS annoying.)

We run courses based on current enrollments, and if there aren't enough students in a course about one week before the start date of the course, the decision to cancel is made so students can seek an alternative.

If you (and enough other students) register for a course early, chances are we'll run the course. Simple as that.
Registration is now open for all summer session A and B courses. Sign up now to secure your seat, save $50, and stay on target to reach your goals.
Questions about courses?

Email the School of Graduate, Online and Continuing Education at

gce@fitchburgstate.edu.
Have feedback? Looking for certain courses or programs? Leave us comments below.