Are you interested in returning to school to complete your bachelor's degree or to earn a master's degree, but can't find the time to make a phone call during the work day? We've got you covered during webinar week!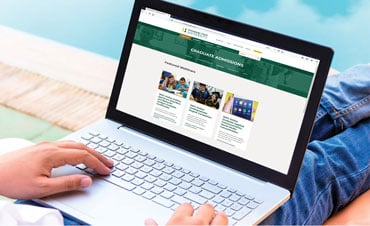 What is webinar week?
This is a chance for you to learn about a graduate. undergraduate or a continuing education program on your own time. All you have to do is visit the webinar library anytime between Sunday, November 1 through Saturday, November 7, and enter your information. Once entered, you'll receive access to the webinar recording of your choice. Not sure which program is right for you? Watch more than one recording.

How does it work and how much does it cost?
Webinars are free on-demand recordings that can be accessed 24/7. Find a small block of time (up to 30 minutes) to log in from anywhere in the world. You can even watch a recording on your phone. As a thank you for giving us your valuable time we'll waive the $50 application fee after you hit submit on the online application.* It's that easy!

How do I get the application fee waiver?
A member of the admissions team will automatically waive your fee within one week of you watching a webinar recording.**

What if I still have questions after watching the webinar?
Contact a member of our advising team at gce@fitchburgstate.edu or 978-665-3182.

*Application fees will be waived for new applicants only at the end of webinar week starting on August 3. Contact gce@fitchburgstate.edu with any questions.
**Application fees are non-refundable. Once a $50 fee is applied to an account the fee cannot be returned or refunded.