2020 has presented challenges for all of us. Perhaps this unusual time has given you an opportunity to think about returning to the classroom. Would you like to pursue an initial teacher's license, to broaden your knowledge in your teaching field or to expand your scope with a new area of focus?
Fitchburg State has a multitude of programs and concentrations to meet your educational and career needs.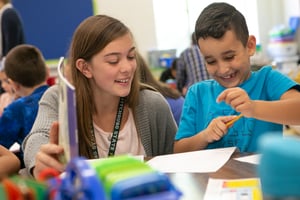 More than a dozen Master of Education routes to an initial license for first-time teachers and career-changers
Nine non-licensure Master of Education programs for those who want to diversify their expertise - including a newly-launched Special Education, Guided Studies, Applied Behavior Analysis option
Three Graduate-Level Certificate tracks targeting in-demand needs within the field of education
Four options for Certificates of Advanced Graduate Studies in administrative and specialized areas such as School Principal and Supervisor/Director; additional specializations to be offered soon
Fitchburg State has been preparing educators since its inception in 1894. Our online and hybrid programs offer flexibility while maintaining emphasis on interaction and collaboration. With one of the most affordable tuition rates in Massachusetts, we are confident we can provide a quality, interactive educational experience catered to your needs!