If you're participating in the undergraduate graduation ceremony on May 16, 2015, here's a checklist to help ensure you have everything you need ahead of the ceremony.
Any student who has completed the requirements for degree conferral is eligible to participate.
Students who've been approved by the Registrar to take part in the ceremony without fulfilling all of their graduation requirements can also walk on May 16.
If you're interested in participating in the graduation ceremony and haven't yet been approved to do so, you're invited to complete the request form and submit it to the Registrar's Office for approval.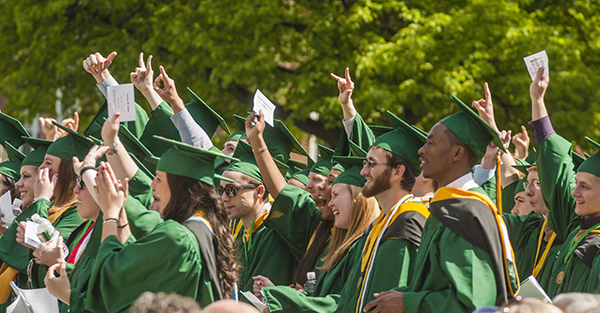 Check your graduation status
If you're slated to graduate, then you've already submitted your degree application to the Registrar's Office. But maybe you want to make sure you're on the lists?
Order your cap and gown
Your cap and gown should've been ordered via the University Cap & Gown Co. by April 14, 2015. If for whatever reason you need to make your purchase after that, place an order at the bookstore located in Hammond Hall.
Questions related to the cap and gown can be directed to the bookstore at (978) 665-4026.
Be prepared to show up at 9 AM on May 16
The graduation ceremony begins at 9:50 AM on Saturday, May 16. If you're participating, prepare to arrive in your cap, gown, and hood around 9 AM and gather near the flagpoles at Highland Plaza on Highland Avenue.
Once there, the following things will happen:
You'll be given an index card displaying your name, line number, and place in line. If your name is difficult to pronounce, provide the phonetic spelling so it can be read aloud without confusion.
Stay in the order you were assigned. Your guests will be expecting you in that position, which is printed in the program.
There will be signs on Highland Avenue indicating your place in line, and we'll also have Marshals on hand to assist you.
Parking accommodations
Shuttle busses will be in constant operation to bring guests from the Civic Center between 8 AM and 2 PM.
Can't make the ceremony?
Whether or not you attend the May 16 ceremony, all diplomas are mailed out approximately two weeks after commencement.
Family
Friends or family attending commencement don't need tickets. However, if the event is moved indoors due to weather, this could change (refer to the next section).
Weather
In the event of inclement weather, the ceremony will be moved indoors to the Athletics and Recreation Center. This decision will be made on Friday, May 15, and will be conveyed:
via the Fitchburg State website;
through email to your Fitchburg State account; and
posted to our voicemail.
If the undergraduate ceremony is moved indoors because of weather, tickets are required for admittance. You'll receive email instructions on how to request and receive them.
Check your Fitchburg State email
Lastly, check your university student email account often for the latest updates and information.
Note: This article refers only to the undergraduate ceremony on Saturday, May 16, 2015. If you're looking for information on the graduate commencement ceremony happening on Thursday, May 14, you will receive more information via email.
Additional questions regarding graduation can be directed to the Registrar's Office: registrar@fitchburgstate.edu.