Brig. Gen. Frederick A. Henry's long and storied military career has taken him across the U.S. and Europe, but he's never forgotten the lessons he learned as an undergraduate at Fitchburg State.
He grew up in an inner city environment in Cambridge, where by his own admission he wasn't a strong student.
"I constantly went off the reservation," Gen. Henry recalled. "I would always go on another path."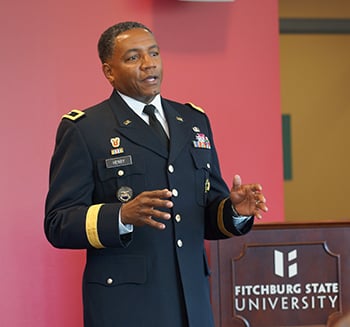 As a teen, Gen. Henry was a part of the Upward Bound program, where he was encouraged to try attending Fitchburg State; if the experience didn't work out, he was told, he could consider joining the Navy.
Fitchburg State would prove a transformative experience.
Fitchburg State helps students realize their full potential
"When I came through here I said, 'I think I can make it here,'" he recalled. "Fitchburg did something for me. I was able to demonstrate my potential."
While in college, Gen. Henry became involved with numerous student activities and was able to prove himself as a leader.
It was also Gen. Henry's presence in Fitchburg that led to another life-changing event. One day as he was on his way to the local grocery store to apply for a summer job, he saw a poster promoting ROTC. Henry was faced with the option of bagging groceries for the summer or joining ROTC; he chose the latter, and the experience instilled new and vital skills in the college student. "It began to foster leadership tactics within me that I never knew existed," he said.
After five years, Gen. Henry graduated from Fitchburg State and was commissioned as a 2nd Lieutenant in the Chemical Corps. It was at this stage that Gen. Henry learned numerous valuable life lessons. A higher-ranking officer told him he would only achieve a certain rank, along with giving him a negative remark on his efficiency report.
Hard work and a good attitude go a long way
"I'm going to give you this report to make you work harder," Gen. Henry was told. It was this statement that resonated with the young captain and inspired him to work hard and strive for more. "I had to learn if I was going to demonstrate my abilities. The only way I had to overcome what he told me was to work hard and have a good attitude."
With a positive mindset and rigorous work ethic now in place, Gen. Henry ultimately surpassed that officer's rank. He credits his time at Fitchburg State for his ever-climbing experience in the military and for setting him on the right path in life. "Because of what I found here at Fitchburg, it gave me purpose, it gave me foundations, it gave me a work ethic," said the General. "What I learned as a general I learned as a captain; what I learned as a captain I can attribute to Fitchburg. I don't think I would've gotten there had it not been for my experience at Fitchburg."
His military career has included working in the Joint Operations Center in support of NATO operations in Bosnia-Herzegovnia and serving as operations officer at bases in Germany. After attending the Joint Forces Staff College in 2001, Gen. Henry served as a mission commander in support of the Chemical Weapons Convention Treaty on-site inspection verification program. On November 18, 2011, he was promoted to brigadier general. Following his assignment as deputy commanding general at the U.S. Army Network Enterprise Technology Command, he was assigned to the Defense Information Systems Agency, Fort Meade, Md., where he currently serves as the Agency Chief of Staff.
"Don't let others define who you are..."
In addition to sincere pride for his former university and emphasizing the value of a strong work ethic, Gen. Henry also shared some wise words with the students. "It's your attitude in life, not necessarily your aptitude, that will determine your altitude," he said. "Attitude shapes your character and how people see you as a person."
He also expressed how important it is for young people to not let others suppress their abilities. "Don't let anyone define who you are and what your potential is going to be," he advised.
Gen. Henry was welcomed back to campus last fall where he was presented the Alumni Achievement Award. He also took time to meet with current students to recount his own journey and the lessons it taught him.
"I will always be able to cherish what I learned at Fitchburg," said Gen. Henry. "It was the best decision I ever could have made."
How has Fitchburg State University made a positive impact on your life? Tell us in the comments below.