Teaching middle school was a career change for Tammi Chandler, who began her professional career in the private sector, training adults in California. But the prospect of working with younger students also appealed to her.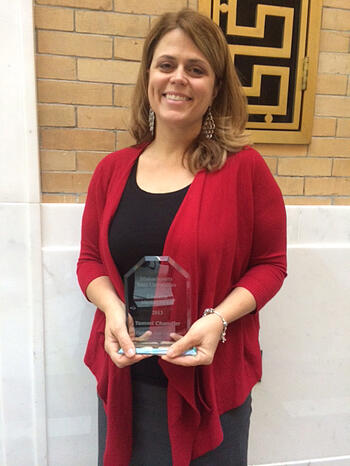 After visiting friends in Fitchburg she planted roots—including starting a family—in the city and eventually at Fitchburg State, where she was impressed by the strong connection between the university and the Fitchburg Public Schools. Soon she was teaching at the middle school level.
"It was so much more fulfilling," she said. "I wanted to work with at-risk children."
Coaching other teachers helps teachers & students
After nine years as a math teacher—mostly working with seventh-graders—Chandler was approached about taking on duties as a math coach for the Longsjo Middle School's teaching staff. She resisted at first, fearful that she would miss the rewarding individual relationships she had fostered with her students. Those fears proved unfounded, however, as she now spends time with every student in the school.
As a coach, Chandler works with individual teachers to support areas of practice, sometimes co-teaching in the classroom. She helps analyze data that drives professional development tactics as well.
Recognized as outstanding K-12 educator
Chandler was recognized for her efforts last fall, when Fitchburg State selected her among eight of the Commonwealth's outstanding K-12 educators who had graduated from the system's teacher preparation programs.
"Tammi Chandler is exemplary of the extraordinary teachers that Fitchburg State and the entire State University system are graduating each and every year," President Antonucci said. "These are the great teachers who are adept at helping all students learn and who care deeply about the education and wellbeing of their students. These are the great teachers who years, even decades later students can recall as making a difference in their lives."
Chandler was saluted for her leadership skills and commitment to the profession that have been instrumental in increasing student achievement at Longsjo. She is known as a teacher of resilience and a turnaround teacher who embraces the teaching of challenging students. For her, student success is her greatest reward.
Chandler, while flattered by the recognition, noted she works daily with many teachers who are just as deserving of accolades. She lives in Fitchburg with her husband, Michael, and their sons, Austin and Ethan.
The Massachusetts State Universities continue to educate more than one-third of all public educators in Massachusetts.
Thinking about becoming a teacher?