SAT or ACT, that is the question.
Which leads to another question. What are the application requirements of the colleges you're thinking about applying to? Most will accept either test score, but it's definitely something you should look into before deciding which test to take.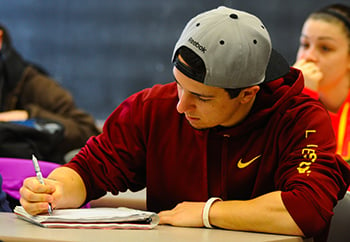 Let's see how the tests stack up:
SAT
Tested on critical reading, writing, and mathematics
Mathematics includes algebra and geometry with a lot of word problems
Strong emphasis on vocabulary
Looks at ability to reason
ACT
Tested on english, mathematics, reading, science and has an optional writing test (that is required by many schools).
Focuses on straight knowledge vs. ability to reason.
Mathematics includes algebra, geometry, and trigonometry. More advanced math concepts, but questions are more straightforward than SAT.
Has a science section, SAT does not
On ACTstudent.org, they summarize the tests this way:
"The ACT is an achievement test, measuring what a student has learned in school. The SAT is more of an aptitude test, testing reasoning and verbal abilities.

The SAT penalizes you for wrong answers, so guessing is discouraged. The ACT is scored based on the number of correct answers with no penalty for guessing."
So who should take which test?
At a glance, you might think that the ACT is for students who excel in math and science whereas the SAT is for students who excel at writing and critical thinking. But this may or may not prove true.
The best way to tell which test you might excel at is to take some practice tests online or in one of the test preparation books. It will give you a better sense of how questions are asked and what information they're looking for. This might be all you need to make your decision.
Some students decide to take both tests and submit the one they did better at. Not a bad strategy.
But I'm terrible at tests, do I have to take either?
The short answer to this question is … maybe not.
Many colleges are becoming test-optional, meaning you don't have to submit test scores, but can submit a portfolio of work, project, additional writing samples, or whatever the college deems a good indication of your candidacy for enrollment. This might be very appealing to students who suffer from test anxiety or just don't think their test scores are a good representation of who they are as a student or as a person.
Whatever you decide, make sure to put your best foot forward. Show colleges how lucky THEY would be to have you as a student. Good luck!
Have you taken the SAT or ACT already? Tell us about your experience in the comments below.