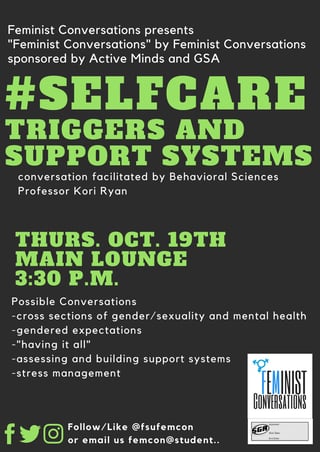 For some, the breaking point is obvious, like finding our fists lodged inside plaster walls. For others, it's when we curl our bodies up with our hands on our foreheads, fingers trying to comb through the stress. It's the moment you realize the whole notion of "finding yourself" in college can be filled with stress. The type of learning about yourself you need to do pushes you to be your very best, but might also push you to your mental breaking point.
This is one reason I stopped telling my friends to "have fun" on the weekends, and to take care of themselves, instead.
For me, "finding myself" has happened in conjunction with my attempts to help others succeed. Being a Human Services major and leader of a student-run mental health club called Active Minds has opened my eyes to the importance of maintaining mental wellness. The more I learn about helping others deal with their mental health, the more I learn about my own. I have learned about the many elements that can be harmful, from stress to illness and everything in-between. Being in college creates a whole new world of risks, because this is when mental productivity is most demanding.
However, through my work with Active Minds I have learned that there is nothing productive about reaching your breaking point. In fact, there is research that proves that ignoring potential mental health issues can lead to a lower GPA and higher chance of dropping out. You didn't make it this far to give up. There are changes, big and small, that can be made in an effort to maintain a healthy mind, but they can't be done if your fists are covered in plaster.
I think one of the most important things I have learned from being a mental health advocate is that we all have mental health to take care of— people with diagnosed mental illnesses and also those without. We owe it to ourselves and our peers to take care of our bodies, our minds, and each other. I know I am not a mental health provider (yet). For now, you might see me as a student, a peer, a concerned counterpart who is ready and willing to help you feel supported, reassured, and educated. I believe that being mindful of your own mental health could help you reach your full potential on campus this year. I may not be certified enough to treat you, but I am experienced and mindful enough to teach you… I have seen harmful behaviors and habits become damaging.
Over the past three years I, myself, have battled with negativity that could have affected my overall well-being and success as a student, had I let it. I didn't. After I curled up in a ball of stress once or twice, I decided to take better care of myself. I started by identifying the controllable elements in my life that were potentially harmful to my personal growth. I pin-pointed where the harm came from and reevaluated what I committed my time to. Then, I filled my newfound free time with my "self care" habits.
I started by slowly ridding myself of the weight of toxic relationships — there was not much that I could do about my academic course load, but there was no reason I should be constantly stressed about the state of my relationships. So, I replaced my midnight teary-eyed phone calls with a pencil and some drawing paper.
I stopped spending my free time surrounded by passionless people and I found an inspiration, a support system, and a family within Active Minds. Once a week, I tell my new friends what the worst and what the best part of my week was without fear of judgement. I leave meetings with stomach pains from laughter.
I stopped sulking over future assignments and I bought an agenda to keep myself organized. I found this makes me less stressed. I stopped slouching, my back stopped hurting, I started feeling more able. I choose the seat by the window because I've learned that sunlight brightens my day. I never forget to eat some chocolate every once in a while. I bought a gym membership and new canvases for the small portions of the day that I save for myself. I learned that my best ideas for writing a paper don't come from being in front of a computer screen, but when I'm running on a path in the woods. I smile, like, a lot — find me smiling at strangers, or after a car accident, or when I'm about to cry because you don't have control over what life gives you, but you can control how you react to it and cope with it.
So, find yourself. Go ahead. Learn what's worth your time and your energy. Make necessary healthy changes, big or small. Be the best you can be this year with nothing holding you back.
Take care,
Amber Haney
Join us at the next Feminist Conversation scheduled for Thursday, October 19th where we'll be exploring Self Care as a theme with FemCon and the Gay Straight Alliance. Dr. Kori Ryan will lead us in a discussion. Bring your questions and comments. Let's have a conversation.
Active Minds works very closely with Counseling Services at Fitchburg State for all mental health issues or concerns that may require interventions with a qualified mental health provider. Counseling Services is open from 8:30 AM to 5:00 PM on weekdays, with various walk-in hours. Counseling staff can be reached at 978-665-3152 and the best part is, they will understand, too.