For Ben DeTour '13, college was about taking full advantage of each and every opportunity.
The Fitchburg State senior was just wrapping up his final semester of an internship at National Geographic Television in Washington, D.C. last spring when he had the chance to meet an alumnus whom he had been hoping to connect with for months. The two hit it off and a short time later, DeTour, originally from Belchertown, had a full-time job.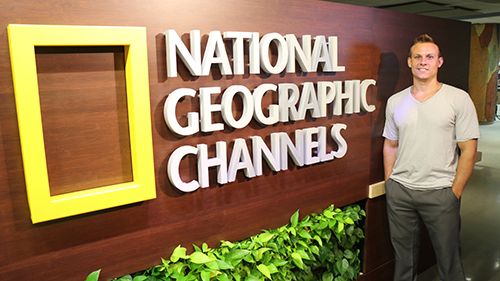 Networking really does pay off
"I shook hands with him on my last day and thought this was my moment," DeTour said. "I'm not going to get it again. I told him that this was my dream job and I'd love to work for him. He took the chance."
The alumnus was John Cosenze, a 1982 graduate, who this past fall won an Emmy Award from the National Academy of Television Arts and Sciences as the supervising producer of "Space Dive" for the National Geographic Channel.
Cosenze said the two worked two floors from each other the entire semester DeTour was working at National Geographic Television but they didn't meet until two days before DeTour's internship was over.
Fellow Fitchburg State alum sees promise
"We got to talking for an hour and I got a good feeling from him," Cosenze said. "The fact that he was from Fitchburg State gave him a whole lot of points. I could tell he got some valuable training and most importantly, he was just a good kid."
About two months later, a production coordinator left and Cosenze immediately thought of DeTour.
DeTour started in October 2013. In the entry level role, DeTour helps producers with editing, re-narration, coordinating license agreements, obtaining rights to footage, confirming rates for vendors, and issuing payment to vendors.
"You could say there is some serious gray area with my job title," DeTour said. "I do a lot more than a typical production coordinator would do because our department is one of the busiest at NGC."
DeTour also said that Cosenze and his other boss have started giving him his own shows to work on. Those shows, called, "repacks" are old shows that aired years ago but are being revamped with new graphics, content and narration to appeal to new audiences.
Living the dream ... one show at a time
"I've already had about one dozen shows hit the air with new graphics and loads of edits that I've made so, you could say they are supporting my dream and grooming me to become a young producer for National Geographic Channel," DeTour said. "They know what I want to do and have been nothing but supportive in helping me reach those goals. There's not a doubt in my mind that, under their help and guidance, I'll become a producer someday (hopefully soon)."
DeTour credits his Fitchburg State connection with Cosenze, and the education he received at the university, for the opportunity to pursue his dream.
"I was so happy I paid attention in college because the education was just phenomenal," DeTour said. "I felt like I was on top of it."
"I'm over the moon and excited to work for National Geographic," he said. "The fact that I'm here right now is fantastic and I'm working my tail off to get to where I want to be ultimately. I have a lot of people who put their names on the line for me."
Is your dream to work in the television industry someday?