When you have a question about something, common sense would have you talk to someone who's an expert on the subject.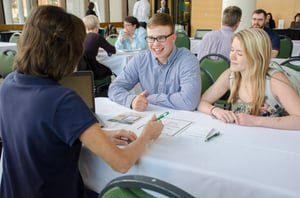 Want to know about dolphins? Ask a marine biologist.
Have a question about your car? Ask a mechanic.
What if you want to know more about Graduate and Continuing Education (GCE) programs at Fitchburg State? Join us at an Virtual Open House on June 9, 5 pm to 6:30 pm where representatives of the programs will answer all of your questions.
Not only can we answer your specific program questions, but admissions, financial aid, registrar, student accounts and GCE staff are also available to help you out.
Get your questions answered and find out how you can start this new journey towards your educational goals.

If you can't attend the online open house check out one of our webinars or request an advising appointment. If you need more instant info you can email, call or chat too!
"When I got there I mentioned I wanted to chat with an advisor," said one past participant. "It was suggested I attend the breakout session. I am very glad. There was a small group there and I was able to talk to the program chair just about 1-on-1 and got all my questions answered and even found out I am further along than I thought I was. I found it very helpful and am very glad I went."