Blog post by guest blogger, Reid Weber
A Personal Experience with Medieval Studies
For those of us teaching in higher education, our middle or high school classes can seem like ancient history. I look back in vague horror at equations in chemistry, wrestling with that confounded X in algebra, or my inability to do a second chin up in P.E. Yet, without a doubt my academic curiosity was nurtured in secondary education. Sure, I struggled with algebra, but I embraced social studies, history, literature, and the arts. I remember Mr. Kindschuh's World History course well and even as I lecture today in front of university students, I marvel at the details I have held onto for so long. I remember being inspired by images of castles and cathedrals, culture and conquest, and the validation of discovering something I was truly passionate about. I was a B-/C+ high school student with little enthusiasm for most of my classes, but that brief flirtation with world history was the foundation for my success later in life.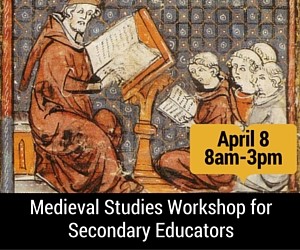 How Medieval Studies can benefit your classroom
Only a handful of students will ever follow the same path I have chosen, and that is OK. Yet exploring the Middle Ages can help students develop a variety of critical skills to the modern world.
Studying the Middle Ages:
Fosters a greater empathy for the challenges of the past and more complete understanding of the world around us.
Provides a context for the development of modern values, morals, and the roots of cultural clashes.
Incorporates many of the identities and challenges that continue to shape religion, politics, and even entertainment today.
Serves as a surprising and engaging playground that facilitates thinking critically, synthesizing ideas, information literacy, interpretation, and writing skills that students can take with them in any profession.
Explores the roots our system of education, opening up a discussion of student and teacher roles on all levels.
What You Get from this Workshop
Scrolling through the half page devoted to the European Middle Ages in The Massachusetts Curriculum Framework, one has only to blink and a teacher may miss an amazingly complex, dramatic, and influential part of human development. By making knowledge accessible and useful to secondary teachers, the dedicated creators of this workshop hope to make it easy for teachers to inspire the next generation. This interdisciplinary program is designed to provide material, relatable content, and hopefully inspiration for teachers to take back to their classrooms. Teachers have a limited amount of time to discuss the medieval world, we want to help them make the most of it.
Join us for the workshop!
April 8, 2016
8:00 AM - 3:00 PM
Hammond Hall, Fitchburg State University
$40 will cover this day-long Medieval Studies Workshop including a continental breakfast and catered lunch.
Reid Weber is one of the co-organizers of this workshop and is currently a visiting assistant professor in history at Fitchburg State University. He received his Ph.D. in 2014 from the University of Florida. His primary research interest is religion and culture in late medieval and early modern Europe. He has published multiple articles on late medieval preaching, and is currently adapting his dissertation into a monograph on the sermons of the Bohemian Reformer Jan Hus. He teaches courses that cover all or part of world history, and topical courses from the Reformation to the French Revolution.