They hang out sometimes, just catch up with one another, but we reap all the benefits of this friendship. One of these benefits is Theater on Tap.
Theater on Tap isn't an official club, but rather a program run by Fitchburg State alumni. As you may have guessed, it's a theater program, and has currently enrolled students participate in the shows. The last weekend of the fall semester saw them perform Beyond Therapy. They set up a stage in the Fitchburg Art Museum minutes from campus, and it was excellent. An impressive number of people made it out to each of the performances to support the students and primarily to enjoy themselves—as I imagine people like to do. And enjoy they did! The show was clever, and a great choice for anyone who isn't very involved in plays, (that would be me) to get involved.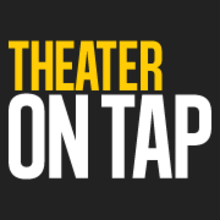 I don't know if it's theater or theatre. I've never been in a situation where this was relevant.
I think a big turn off for me in terms of theater/re was my assumption that it was all this Shakespearian, old English, "and now I die" type of overacting. As I've found more often than not, I am so terribly wrong. Beyond Therapy was a hectic comedy and it was outstanding to watch. This particular show made me want to give serious plays a second chance after seeing some of the budding talent here at the school. Being on stage isn't something I'd personally be good at, but I can heartily laugh and clap very well, so I'm going to stick with that.
The theatrical ambition here in Fitchburg is far from lacking, and Theater on Tap along with the official drama club have shows lined up for the Spring Semester.
It's cool that Fitchburg State alumni remain active with the campus and student life in terms of productivity. It's encouraging knowing that Fitchburg was more than just a stepping stone for these folks, and something worth sticking around. It bodes well for the future of a new student like me.
There are always things to see or keep busy with outside the classroom. I know, you're saying,
"I wish the plethora of entertainment here at Fitchburg State was listed somewhere."
Don't worry; it is! Take a look at Center Stage's upcoming events!.
If you are a prospective theater major click here, I know the school would love to have you.
Are you a fan of stage plays? Would you like to correct me on my theater/theatre? How about a virtual high five or sorts? Comment below, it'd be a selfless gift that I will enjoy selfishly.