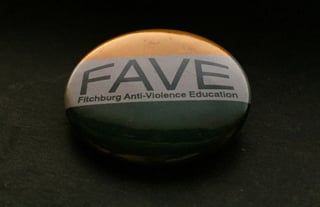 The Fitchburg Anti-Violence Education (FAVE) mission is to create a safe and respectful campus community for all, free from interpersonal and relationship violence, sexual assault, and stalking. FAVE does this by promoting healthy relationships through education and programming while empowering and supporting those affected by violence.
This vital mission begins with each and every one of us on campus making a commitment to create a culture of respect and support, and then making a collective effort to translate this commitment into action. Here are some of the campus-wide efforts that are taking place within our community. Get involved!
Being an "Active Bystander"
We often hear people reference the term "active bystander," but what does that mean? It varies depending on the person and the context, but the common thread is that an active bystander is someone who takes action to help a fellow human being. This action can be stepping in, getting help, connecting others with appropriate resources, or being a shoulder to lean on in a time of need. It can also be a combination of all of the above. The expectation is not that we have to become superheroes, but that we avoid inaction when others are being treated without the dignity, respect, and support they deserve.

Just one component of the efforts to create a campus community of active bystanders is the online training in interpersonal violence prevention that is required for all incoming freshman and transfer students. Currently, a number of administrators on campus are working on the creation of a new, personalized training program that we believe will be even more relevant and powerful. Stay tuned for that!
Beyond Bystander Training… Getting Involved
Promoting this culture of support and respect should not, can not, and will not stop at online bystander training. You may be familiar with some of the existing FAVE programming initiatives throughout the year such as Take Back the Night, Ask First Kiss Second, the Domestic Violence Awareness Ribbon Campaign, and more.
We recognize that student involvement in FAVE initiatives has been, and always will be, critical to their success and impact. There is no doubt that students are the heartbeat of this campus and are also the greatest catalysts for change in our community. We are so excited to announce a new opportunity for student involvement in the new and officially recognized FAVE Club! In addition to supporting FAVE initiatives, FAVE Club will be developing its own student-run activities and collaborating with other student clubs/organizations to empower survivors within our community and promote awareness of interpersonal violence, relationship violence, and sexual assault.

FAVE Club meets at 3:30 every Monday in Thompson 111. All students are welcome to join!
For more information about FAVE Club please e-mail FAVE Club President, Tyler Ansin, at tansin@student.fitchburgstate.edu. You can also check out the FAVE Club Instagram!
For more information about FAVE please visit:
On Campus Support Resources:
FSU Counseling Services- 978-665-3152
FSU Health Services- 978-665-3643
Campus Police- 978-665-3111
Off Campus Support Resources:
Pathways for Change (Rape Crisis Center) Hotline- 1-800-870-5905
YWCA Domestic Violence Services- 508-755-9030
National Domestic Violence Hotline- 1-800-799-7233
National Suicide Prevention Lifeline- 1-800-273-8255