Hello, current and potential students. I'm going to drop some important news on you.
You might want to sit down for this. Are you sitting? Could you please just do it for dramatic effect? Listen, I don't care if you're reading this at your grandmother's funeral, the fact that you chose to read this at her funeral shows you don't have much tact so sitting down shouldn't be that much of an issue for you.
You're sitting, right?
Thank you.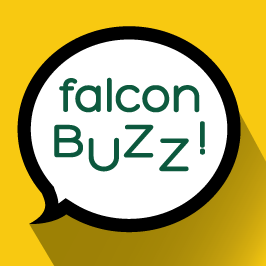 Keep up on what's happening around campus
Now for the big moment. Fitchburg State University has created several information pages on outlets such as Facebook, Twitter and Instagram to help you, the students understand just how much is going on. Everyday my inbox is filled and I'd be lying if I said I read every one of the emails sent to me. Usually I just scan the subject line to make sure it's not something pressing that I've forgotten and then I completely forget about it.
Because of my lacking approach to email I miss a lot of fun events and great opportunities going on at the school, that's why Falcon Buzz is incredibly helpful. If you follow us on Facebook, Twitter, and Instagram you won't have to worry about missing events because chances are you check all three of these more thoroughly and often than your email.
Social media for the students, by the students
Now I know if I were you, sitting at my grandmother's funeral and reading this, I'd have one really big concern. 'I don't want my Facebook, Twitter, and Instagram to be filled with things that I may or may not be interested in.' I get it, it's a valid concern, don't worry though. We don't have a team of a hundred, it's just a handful of students who have been asked to help get information circulating. It's for the students, by the students. That's what makes it great, you have people who understand what it's like to live on or commute to a college campus telling you what's happening.
Although this will help inform people of fun events there's other news that people need to hear. For example did you know that last week was Scholarship Week? Over 200 scholarships were given out, not to mention a new computer system that supplied students with a list of what scholarships they could apply for. That's way easier than going through all of them by hand and figuring out which criteria you fit under. That's money towards your education that you could might have missed.
So I'll leave you with that. Falcon Buzz uses Facebook, Instagram, Twitter, and this blog, to inform students of cool events that have happened, are happening right now, and that will be happening soon! Not to mention it's all conveniently located on the Fitchburg State University Falcon Buzz Page.
What do you want the Falcon Buzz team to talk about? Let us know in the comments below.