This past weekend I was given the distinct pleasure of participating in the the third annual Center For Diversity And Inclusiveness (CDI) Retreat at Camp Woodstock in Woodstock, CT. CDI oversees the Latin American Student Organization (LASO), Black Student Union (BSU), Asian Culture Society (ACS), Gay-Straight Alliance (GSA) and World Integrated Nations (WIN).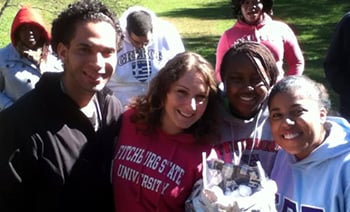 The center is expanding soon, creating Chaverim, a Jewish student society and Focus On Faith, an interfaith organization that looks to discuss religions in all forms. CDI is run by Jamie Cochran, a wonderful woman who always greets with hugs, not handshakes.
Retreats through Fitchburg State are always a blast

I've been on retreats before with Fitchburg State. The last two I went on were with the Office Of Student Development for my role as an Orientation Leader (OL) and both were incredible. There is something special about getting away from what you're used to, taking a step away from the classes and people who you normally associate with and stepping out of your comfort zone to develop yourself.
The OL retreats I went on were part of a job and absolutely helped me grow as a person and meet wonderful new people. However, there was something different about the CDI Retreat. Yes, all of the OLs wanted to be there but it was required that we were there. There is something different about a group of people choosing to spend a weekend with each other like the CDI retreat.
No matter what your nationality, we're all connected
The activities I got to do on the CDI Retreat helped me understand diversity more and what it means to understand people. One of our activities was listing all of our nationalities in our background and then making sand art of all the colors of all the flags that make us. We then shared some of the colors and nationalities we were and it was awesome to see how a lot of the colors were shared from around the world. How yellow was in Germany's flag but also Brazil and how blue was in the UK as well as Russia and Puerto Rico. It was an awesome exercise to be able to see how we are all connected!
Going on retreats is a great way to make new friends
Of course, you're not alone through all of this. By going on this retreat, I was able to meet people and make friends with people I never thought I would ever get the chance to talk to, let alone be friends with. There were people I knew going with me but there is something about being able to meet new people, which is always exciting. On top of that, getting to do all of these activities and exercises with people all stepping out of their comfort zones with you creates bonds that you are able to bring back with you.

Overall, it was an incredible experience that I am so fortunate to be able to have. I look forward to hopefully getting more involved with CDI in the future,
What retreats have you been on that really made a difference in your life? Tell us about it in the comments below.