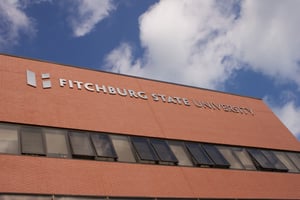 What is the CCAC?
Saturday will mark seven months since beginning my new journey as an academic and career coach at the Career Counseling and Advising Center (CCAC). Like many of the students I work with, I am getting used to a new campus. I am navigating various offices and I am fortunate enough to be working in a newly merged set of departments. The CCAC was created about a year and a half ago when the Career Counseling Center and Advising Center became one entity.
My journey to Fitchburg State
In addition to a director and an administrative assistant, the CCAC has four full-time academic and career coaches. That is where I come in. My background is in counseling with a focus on student development in higher education. It's basically a fancy way of saying I got my Master's in working at colleges, doing things outside of teaching. Prior to arriving at Fitchburg State, I worked as a lead academic coach for my alma mater, followed by a quick stint in admissions and most recently doing academic and career advising with student athletes. I am very excited to be working at a new university, sharing all of the tools I have picked up over the last five years.
Supporting students to achieve their academic and career goals
Whether you are attending Fitchburg State as a first year student, a new transfer student, or someone graduating in May, our office's driving force is to support you in achieving your academic and career goalsーwhether that's preparing for your career after graduation or finding new strategies to make that jump from the Dean's List to the President's List. Our office is also fortunate to be able to work with alumni who may be seeking additional career support.
What is academic and career coaching anyways?
If you've ever had a coach for sports, dancing, playing an instrument, or anything in between, you are already more familiar with my position than you think. As your academic and career coach, it is my responsibility to provide strategy, support, and guidance for any academic and career concerns.

Sometimes that may look like a resume development meeting. Other times I spend appointments working with students to break down goals or develop study strategies to help with test preparation. Our coaches are also available for general advising questions. Not sure who your advisor is? We can help you look that up. Concerned about how to write a cover letter? Check us out! We also advise new transfer students and pre-major students while they are considering possible degree programs.
A lot of times people ask how coaching and tutoring differ. A big part of the answer has to do with content. As a former political science major, I probably can't answer many, if any, questions you have about your physics homework. What I can do with you is look at your notes, graded tests, and study guides to determine how to use that material to better understand your homework and prepare for exams. If you're looking for content tutoring, check out the awesome Tutor Center on campus.
Day to Day
There is no typical day for coaches in the CCAC. We spend a majority of the time doing individual appointments with students, helping them navigate the academic environment at Fitchburg State. That ranges from career coaching, probation counseling, advising, and more generally assisting students however we can. We have recently started sponsoring an information table once or twice a semester on L level in Hammond Hall.

If you see us, feel free to stop by our table for a quick hello. I promise we won't make you do a GPA calculation or a mock interview on the spot! We also have a wide range of workshops and presentations throughout the semester. You may even see us in some of your classrooms or participating in evening programs at your residence hall.
Other things we would like the campus community to know about our office
We have two office spaces on the third floor of Hammond Hall. You can find us in Hamm 318 and Hamm 322.

We are a super welcoming department and truly love meeting new students. If coming to see us one-on-one sounds like the thing to do, drop by our offices or use SSC campus to set up an appointment!

If one-on-one is a little intimidating, I encourage you to check out one or all of our workshops (okay, all may be a little much, but we would love to have you at one).

Check out our schedule here.